The National Ocean Sciences Bowl (NOSB) Professional Webinar Series is a development opportunity for middle and high school educators nationwide. All educators are welcome to register, and NOSB coaches are highly encouraged to participate.
The free online webinar series will focus on the 2021 NOSB competition theme of ' Plunging into Our Polar Seas.'
Each of the presenters will give a one hour live webinar presentation on their current research or topic of interest, followed by a 30 minute Q&A session.
All participants logged into the meeting will be able to listen and follow along with the presentation, as well as type questions for the presenter during the live presentation. The NOSB national office staff will read the questions to the presenter.
Questions? Please contact us at nosb@oceanleadership.org.
Date of Webinar: January 13, 2021 at 4pm Eastern
Topic/Title: Sea Ice: A Haven for Arctic Marine Life
The sea ice that covers the Arctic Ocean is a haven for marine life in an extreme environment characterized by low temperatures and extreme seasonality. The seasonal patterns of ice melt and ice formation, as well as the loss of sea ice due to anthropogenic climate warming, affect life at all levels of the food chain. Microbes, including bacteria and microalgae, colonize brine channels within the ice lattice. Copepods, amphipods, and other crustaceans graze on the ice algae that forms on the bottom of ice floes. These crustaceans are the main diet of polar cod. Seals, whales, and sea birds, feed on polar cod and other fishes. Polar bears and humans rely on sea ice as a floating platform from which to hunt seals. Understanding the connections between these animals is critical to predict how climate warming will affect the Arctic food web.
Carolynn (Carrie) Harris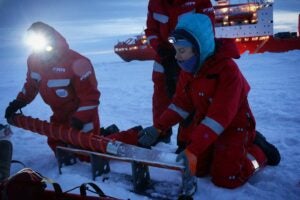 Carolynn (Carrie) Harris is a polar scientist who studies how climate warming effects the Arctic and Antarctica. She is currently pursuing a PhD in Geobiology at Dartmouth College in NH. Carrie originally pursued a career in science because she loves being outdoors and exploring remote and wild places. This passion has led her to Polar Regions many times. Most recently, Carrie joined the MOSAiC Expedition – a yearlong expedition in the Central Arctic Ocean for the study of Arctic Climate.
Carrie is passionate about working to make polar science more safe and welcoming for all. When she's not working, Carrie loves hiking, climbing, and hanging out with her adventure cat, Milo.