Volunteer Roles
The NOSB owes much of its success to the concerted efforts of hundreds of volunteers at both the Regional and Finals Competitions. These volunteers serve in many capacities as competition officials, question writers, technical advisory panelists, or scientific mentors.

Question Writers
Question writers play a very important role in the NOSB because they provide the multiple choice, short answer, and critical thinking team challenge questions (TCQs) used in the competitions. The questions are drawn from the scientific and technical disciplines used in studying the oceans.  Categories include: Physical Oceanography, Chemistry, Biology, Geology, Geography, Marine Policy, Technology, and the Social Sciences.
Guidelines to Writing Buzzer Questions
Guidelines to Writing Team Challenge Questions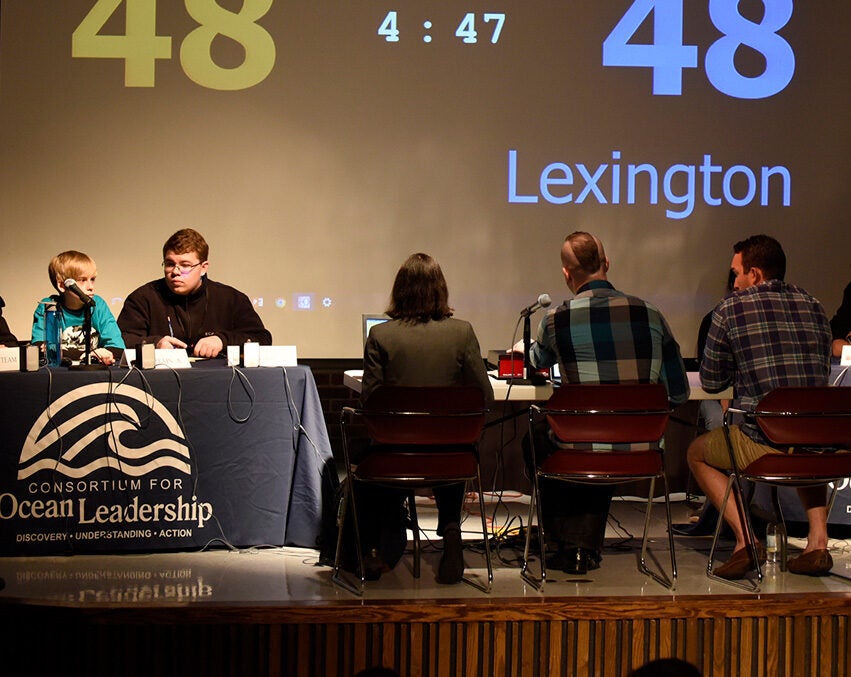 Question Reviewers
The NOSB takes great pride in its scientific content and challenging questions for each year of competition. Therefore, it is necessary to ask scientists, researchers, and educators to serve on a Technical Advisory Panels (TAP) to participate in the question review process. 
During the TAPs, ocean scientists, university-level educators and other professionals provide overall guidance and advice on the content and scientific accuracy of the NOSB competition questions. Panelists provide expertise in their respective fields: Physical Oceanography, Chemistry, Biology, Geology, Geography, Marine Policy, Technology, and the Social Sciences. 
The TAPs are held in Washington, D.C. at the office of the Consortium for Ocean Leadership between September and November of each competition year.
Competition Officials
During the NOSB Regional and Finals competition a team of volunteers is needed to serve as officials for each of the competition rooms.  Click on the links below to find out more about each role.
Moderator
The moderator is the person responsible for controlling each match and reading the questions.  It is important that the moderator be familiar with how the game is played and all of the rules.
Science Judge
The science judge determines if the answer given is acceptable or not. The science judge also resolves question challenges.
Rules Judge
The rules judge ensures all competition rules are followed. To serve in this capacity, it is imperative for the rules judge to fully understand ALL competition rules.
Scorekeeper
The scorekeeper keeps record the competition score.
Timekeeper
The timekeeper operates the official competition time clock.
Runner
Runners transport the team challenge questions (TCQs) to the Judges' Appeals room to be scored.  Once graded, the runner returns the questions to the science judge in the competition room.