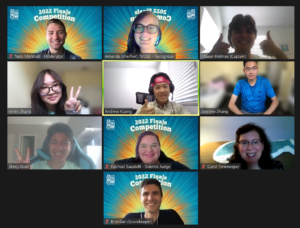 Last week, students from Canyon Crest Academy in San Diego, California, won the National Finals of the 25th Annual National Ocean Sciences Bowl (NOSB). An interdisciplinary ocean science education program of the Consortium for Ocean Leadership, the NOSB tests students' knowledge of ocean science topics, including cross-disciplines of biology, chemistry, policy, physics, and geology. This year, due to the ongoing COVID-19 public health crisis, students competed in a hybrid competition season culminating in over a two-week of online competition, mentoring, and interactive "field trip" events as part of NOSB Finals. Students on the championship team include Mason Holmes, Emily Zhang, Andrew Kuang, Andrew Zhang, and Shrey Goel (team photo below). They are coached by Mary Holmes.
For this year's theme, Climate Change: Ocean Science and Solutions, students studied up on the interconnected processes influencing Earth's climate at global and regional scales, the impacts of climate change, and the opportunities and approaches to adaptation or mitigation. In total, more than 220 teams (made up of almost 1,115 students representing nearly 30 states) participated, adding to the over than 40,000 students who have passed through the ocean sciences competition over the last 25 years. A full list of the 2022 NOSB Finals participants is available here.
"This year was a very special year for the NOSB. For a quarter of a century, this program has been an invaluable educational experience for high school students," said Dr. Alan Leonardi, President and CEO of the Consortium for Ocean Leadership. "We're especially pleased this year to be endorsed by the UN Decade of Ocean Science for Sustainable Development, which shares the NOSB's goal to build ocean scientific literacy in the next generation. Our global ocean is an interconnected system facing an urgent threat, and this year's NOSB students will be uniquely suited to solving the challenges climate change poses. Congratulations to our winning team from Canyon Crest Academy, as well as every student who participated this year."
Through buzzer-style, multiple-choice questions and open-ended team challenge questions, students tested their general knowledge of ocean science and showcased what they learned about the ways that the biggest driver of climate, the ocean, impacts and is impacted in turn by climate change, as well as the myriad ways that modern science can mitigate those impacts.
Teams also presented science recommendations on a piece of legislation in the Science Expert Briefing (SEB), a mock congressional hearing that enhances the critical thinking elements of the competition and focuses on real-world skills.
The top eight teams at the Finals Competition were:
1st Place – Canyon Crest Academy (San Diego, California)
2nd Place – Dougherty Valley High School (San Ramon, California)
3rd Place – Lexington High School (Lexington, Massachusetts)
4th Place – Tesla STEM High School (Redmond, Washington)
5th Place – Ladue Horton Watkins High School (St. Louis, Missouri)
6th Place – Midwood High School (New York, New York)
7th Place – Santa Monica High School (Santa Monica, California)
8th Place – Thomas Jefferson High School for Science and Technology (Alexandria, Virginia)
In addition to the quiz bowl-style competition questions, participants were scored separately on their performance in the SEB. Thomas Jefferson High School for Science and Technology (Alexandria, Virginia) won this portion of the competition, while Canyon Crest Academy (San Diego, California) came in second and Lexington High School (Lexington, Massachusetts) came third.
"Ocean science is an interdisciplinary field, so it has always been important that the NOSB reflect that, from the topics we have students study to the career development we offer," shared Kristen Yarincik, NOSB Program Director. "The NOSB doesn't just create smart students, it creates smart communicators, problem solvers, and leaders. Thousands of students have participated over the past 25 years, taking what they learn from NOSB back to their communities and teaching them in turn, growing the impact of this program beyond just the competition. I am immensely proud of this year's students and would like to thank the Regional Coordinators, volunteers, and supporters who helped make this competition year possible."
For the first time since 2019, NOSB will be offering in-person experiential summer award trips for the top three finishing teams. These award trips are important as they inform students about different aquatic and marine environments, research topics of interest to the local university host, conservation issues of the local area, and the wealth of available career paths. During these trips, the teams will participate in a variety of hands-on activities and tours related to aquatic and ocean science, research, and conservation. The first- and second-place teams will choose between a trip to Milwaukee, Wisconsin (with assistance from the Lake Sturgeon Bowl hosted by the University of Wisconsin Milwaukee) and San Diego, California (with assistance from the Garibaldi Bowl hosted by the University of San Diego). The third-place team, as well as the team who placed highest in the SEB, will both visit Washington, D.C. Team members and coaches of the fourth- through eighth-place teams will receive gift certificates to Amazon and ninth- through twelfth-place teams will receive ocean science books. Additionally, all Finals team coaches will receive a one-year membership to the National Marine Educators Association.
The 2022 national NOSB program is made possible through the following major sponsors:
U.S. National Oceanic and Atmospheric Administration (NOAA)
Schmidt Ocean Institute
U.S. National Academies of Science, Gulf Research Program
U.S. National Aeronautics and Space Administration (NASA)
American Honda Foundation
Curtis and Edith Munson Foundation
Gordon and Betty Moore Foundation
U.S. Bureau of Ocean Energy Management (BOEM)
Marine Mammal Commission
Marine Technology Society
IEEE Oceanic Engineering Society
Vineyard Wind
MacGregor Global
National Renewable Energy Laboratory
National Marine Educators Association
A complete list of sponsors can be found here.